"It's a kind of formal experiment: several pieces written independently, then sectioned and interwoven by a quasi-cinematographic montage. An inspiration? I can mention a film of great formal virtuosity: Short Cuts by Robert Altman— and, of course, my dear friend Garth Knox. He introduced me to this strange instrument, both archaic and modern, for which I had already written a first work thirteen years ago, Fabula."
Oscar Strasnoy
Trailer
Images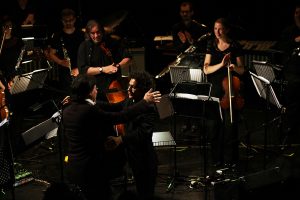 Garth Knox was born in Ireland and spent his childhood in Scotland. Being the youngest of four children who all played string instruments, he was encouraged to take up the viola and quickly decided to make this his career. He studied with Frederic Riddle at the Royal College of Music in London where he won several prizes for viola and for chamber music. Thereafter he played with most of the leading groups in London in a mixture of all repertoires, from baroque to contemporary music.
In 1983 he was invited by Pierre Boulez to become a member of the Ensemble InterContemporain in Paris, which involved regular solo playing, including concertos directed by Pierre Boulez, and chamber music, touring widely and playing in international festivals.
In 1990 Garth Knox joined the Arditti String Quartet, which led him to play in all the major concert halls of the world, working closely with and giving first performances of pieces by most of today's leading composers including Ligeti, Kurtag, Berio, Xenakis, Lachenmann, Cage, Feldman and Stockhausen (the famous"Helicopter Quartet").
Since leaving the quartet In 1998, to concentrate on his solo career, he has given premieres by Ligeti, Schnittke, George Benjamin and many others, including pieces which were especially written for him by composers like Henze, Haas, Saariaho, James Dillon. He also collaborates regularly in theatre and dance projects, and has written and performed a one-man show for children.
He has recently become a pioneer of the viola d'amore, exploring its possibilities in new music, with and without electronics, and is in the process of creating a new repertoire for this instrument.
Garth Knox now lives in Paris, where he enjoys a full time solo career, giving recitals, concertos and chamber music concerts all over Europe, the USA and Japan. He is also an active composer, and his «Viola Spaces », the first phase of an on-going series of concert studies for strings (published in 2010 by Schott) combines ground-breaking innovation in string technique with joyous pleasure in the act of music making. The pieces have been adopted and performed by young string players all over the world.
Garth Knox is Visiting Professor of viola at the Royal Academy of Music in London.
Oscar Strasnoy is a French-Argentine composer, conductor and pianist. Although primarily known for his twelve stage works, the first of which Midea premiered in Spoleto in 2000, his principal compositions also include a secular cantata and several song cycles. Read more about Oscar Strasnoy here: https://en.wikipedia.org/wiki/Oscar_Strasnoy
Credits
Oscar Strasnoy, Composer
Garth Knox, viola d'amore

Red Note Ensemble:
Jackie Shave, violin
Jessica Beeston, viola
Robert Irvine, cello
Nikita Naumov, doublebass
Ruth Morley, flute
William White, clarinet
Tom Hunter, percussion
Brian McGinley trumpet
Clara Fuente Garcia, oboe
Lomic Lamouroux, bassoon
Simon Smith, piano/keyboard
Conductor: Simon Proust
D'Amore was co-commissioned by Red Note Ensemble, sound and Doneaueschinger music festival.